UltraViolet by UV Dynamics
The UVDynamics model UVD320 is applicable to point of
entry applications in today's larger homes and cottages. The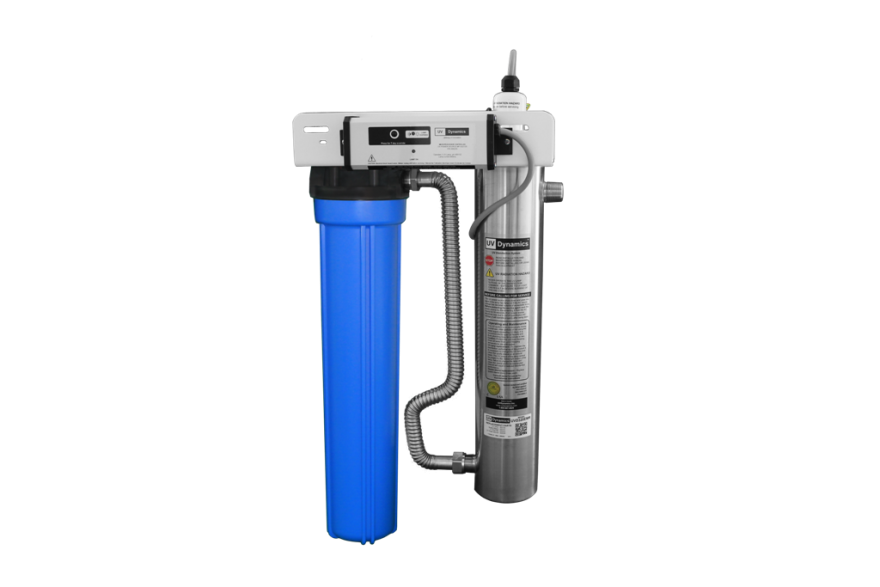 model UVD320's 30mj/cm2 dose at 10gpm is ideal for general disinfection. The compact mounting footprint of the
model UVD320 facilitates simplified installation.
Model UVD320 was designed using sophisticated computer modeling software and then verified by independent third party testing using accepted biodosimetry methods by GAP
EnviroMicrobial Services.
The microprocessor controlled UV power source is
designed for long life and includes both visual and audio
lamp failure alarms as well as an annual lamp change
timer. Our proprietary UV power source and modern
manufacturing methods allow us to make this product
available at a very competitive price.
We include as a standard feature an isolated low voltage
solenoid drive output. Our optional solenoid valves simply
plug into the unit and require no additional interface
cables or transformers to complete the solenoid safety
shut off feature.


PRODUCT FEATURES
♦ Flow rate of 10gpm (37L/min) delivers
UV dose of 30mj/cm2
♦ Flow rate of 8gpm (30L/min) delivers UV
dose of 40mj/cm2
♦ Passivated and polished 304 stainless
steel reactor 3.5" x 18"
♦ 9000hr long life coated UV lamp
♦ Microprocessor controlled UV power
source with audible and visible lamp
failure alarms
♦ True Lamp Current closed loop current
control
♦ Annual lamp change timer
♦ Lamp life remaining feature
♦ ¾" MNPT fittings
♦ Domed quartz sleeve to simplify StandardSeriesOverview
servicing
♦ No Tools required for regular servicing
♦ Easy-service lamp connector
♦ Optional Solenoid valve
♦ Optional UV monitor system